The Suhr Classic J Pro is based on the iconic electric bass designs of the 1960's. This shape has helped define the electric bass guitar for over half a century. The Classic J's sleek frame, asymmetrical body shape, and slim vintage neck profile make for an instrument that combines vintage style with modern improvements.
IMPECCABLE QUALITY, LEGENDARY PERFORMANCE
From the thundering growl of Rock, to deep warmth of Jazz, to the percussive slap of Funk, the Classic J Pro is always the right choice.
NECK PROFILE
VINTAGE J (.810″-.930″)
Each Classic J Pro is equipped with our Vintage J neck profile. Rolled edges and a 7.25" fingerboard radius offers a substantial, yet comfortable shape.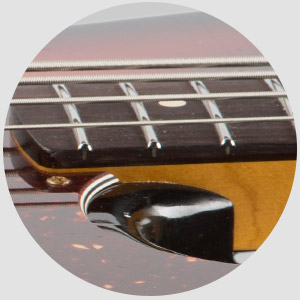 FRETS
HEAVY STAINLESS STEEL (.051″ x .108″)
Stainless steel frets offer silky smooth bending and long-lasting playability. Every Suhr receives a PLEK fret dress, ensuring the best possible string action, playability and intonation.
NECK FINISH
The Quarter sawn Maple neck is tinted, then finished in nitrocellulose lacquer. This provides the traditional feel of a vintage instrument as well as moisture protection.
TONE WOODS
Alder is one of the most popular guitar body woods of the 1960's and is favored by blues and rock players for its strong, clear, full-bodied sound, with beefy mids and excellent lows.
BODY FINISH
The nitrocellulose lacquer finish and our proprietary antiquing process make each Classic J Antique™ feel like it has been loved for years.
HARDWARE & ELECTRONICS
Whether you play Jazz, R&B, Rock or Country, the Classic J Vintage will bring you all the subtleties and nuances of your unique playing style.
Hardware & Electronic Features
GOTOH VINTAGE JAZZ BRIDGE
The Gotoh Vintage Jazz bass bridge is solidly anchored for improved connection, improving sustain and tonality. The spiral saddles allow the adjustment/fine-tuning of the instruments string spacing which improve the alignment of the strings to the pickups.
PICKUP CONFIGURATION
The Classic J Vintage pickup captures the character of a great sounding mid '60s single-coil pickup, with just the right amount of output for exceptional warmth, punch, and definition.
TUNING MACHINES
The Classic J Pro is equipped with Hipshot tuners, which provide excellent tuning and stability.
<p><i class="fa fa-tint home-cat" aria-hidden="true"></i></p><!-- [et_pb_line_break_holder] --><h2 class="home-cat">AVAILABLE FINISHES</h2>
Click Guitar To View Gallery
Click Guitar To View Gallery
Click Guitar To View Gallery
<iframe width="560" height="315" src="https://www.youtube.com/embed/Eajmq91VG0U" frameborder="0" allowfullscreen></iframe>
| | | |
| --- | --- | --- |
| Street Price: | $2,964 | |
| SKU: | 01-CJA | |
| BODY | | |
| | Body Shape: | Classic J |
| | Body Wood: | Alder |
| | Body Finish: | Nitro-cellulose Lacquer |
| | Aging Level: | Light - Includes Checking & Light Dings |
| | Pickguard: | Tortoise |
| NECK | | |
| | Neck Wood: | Extra Tinted Maple |
| | Fingerboard Wood: | Indian Rosewood |
| | Neck Back Shape: | Vintage J .810 - .930 |
| | Fingerboard Radius: | 7.25 |
| | Frets: | Heavy Stainless Steel (.051"x.108") |
| | Nut: | 1.500" Tusq |
| | Neck Finish: | Nitro-cellulose Lacquer |
| | Aging Level: | Light |
| ELECTRONICS | | |
| | Bridge Pickup: | Classic J Vintage, Bridge, Black |
| | Neck Pickup: | Classic J Vintage, Neck, Black |
| HARDWARE | | |
| | Tuning Machines: | Hipshot |
| | Bridge: | Gotoh Vintage Jazz Bridge |
| | Color: | Chrome |