IAN THORNLEY SIGNATURE GUITAR
Ian Thornley is best known as the lead singer and guitarist for multi-platinum selling hard rock outfits Big Wreck and Thornley. He has been using Suhr Classics, Standards and Ts for the last few years and, after playing the Classic JM prototype, he decided that it was the guitar he wanted to call his own.
Ian's Signature Classic JM features a custom Ian Thornley "V" back neck, jumbo stainless frets, matching painted headstock, HSH pickup configuration, series/parallel switching on the pickups and your choice of tremolo or hardtail bridge.

IMPECCABLE QUALITY, LEGENDARY PERFORMANCE
The Ian Thornley Signature guitar features a Roasted Maple neck with an Indian Rosewood fingerboard. The neck is finished with our satin acrylic urethane, which provides the smooth feel of natural wood as well as protection from moisture.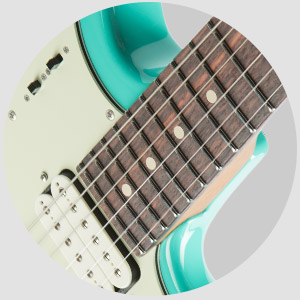 NECK PROFILE
THORNLEY V SHAPE (.875″-.970″)
A tweaked version of our Soft Medium V, the Thornley neck has a more pronounced V shape throughout the entire taper of the neck. The flat 16″ fingerboard radius adds a modern touch to a vintage feeling neck.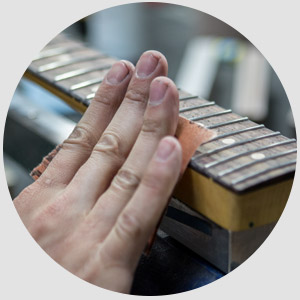 FRETS
JUMBO STAINLESS STEEL (.057″ x .110″)
Stainless steel frets offer silky smooth bending and long-lasting playability. Every Suhr receives a PLEK fret dress, ensuring the best possible string action, playability and intonation.
CONTOURED HEEL
The unique contoured cutaway and heel allows for easier access to the upper register. For optimum tone and stability, the neck joint must not be too tight or too loose, therefore all of our neck pockets are precisely fitted by hand, by expert craftsmen.
CLASSIC JM BODY SHAPE
The Classic JM features subtle, yet substantial tweaks to a classic body shape. The overall size and perimeter of the body has been tweaked and slightly downsized from the original version to create an instrument that feels incredibly comfortable, ergonomic, and familiar.
The optional TonePros TP6 tune-o-matic bridge is thoughtfully recessed into the body of the guitar to keep the same low profile feel as the 510 tremolo. It's incredibly comfortable to play!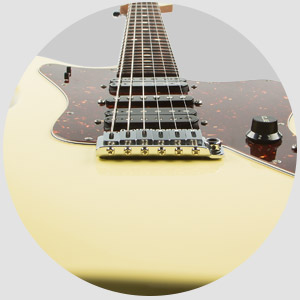 ROASTED ALDER BODY
Alder is one of the most popular guitar body woods of the 1960's and is favored by blues and rock players for its strong, clear, full-bodied sound, with beefy mids and excellent lows.
COMFORTABLE BODY SHAPE
Great care is taken to ensure that the Classic JM is as ergonomic, balanced, and comfortable as possible. If you are used to playing our other body shapes, or other classic 25.5″ scale guitars, you will feel right at home with the Classic JM.
RECESSED TUNE-O-MATIC OPTION
The optional string through body TonePros TP6 tune-o-matic is recessed into the body to provide a comfortable low profile feel.
HARDWARE & ELECTRONICS
The versatile HSH pickup configuration is unleashed through a unique control layout that features a 5-way mega switch, and two series/parallel slider switches.
Hardware & Electronic Features
GOTOH 510
The Gotoh 510 tremolo bridge features dual steel knife edge pivot points to provide greater functionality and years of trouble free performance. The 510's steel block increases sustain and tuning stability.
TONEPROS TP6 TUNE-O-MATIC
Built of solid steel with plated brass saddles, this string through body setup brings out a highly resonant, midrange focused tone. The TonePros TP6 features top adjust action via a hex wrench (no manipulation of the thumb wheels required), along with two locking hex screws to keep the bridge securely locked to the posts.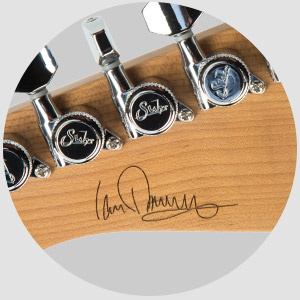 SUHR LOCKING TUNERS
Equipped with staggered Suhr Locking Tuners, which provide an 18:1 gear ratio, improved tuning stability, and no need for a traditional string tree.
Every Thornley model has Ian's signature laser engraved on the back of the headstock.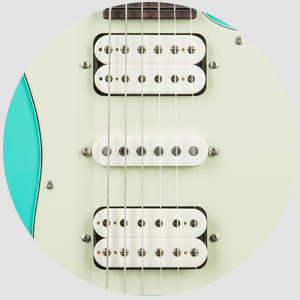 SSV HUMBUCKERS
SSV Neck Humbucker
V70 Middle Single Coil
SSH+ Bridge Humbucker
Positions 2 and 4 on the 5-way selector switch auto-split the humbuckers when combined with the middle pickup. Position 3 is both humbuckers.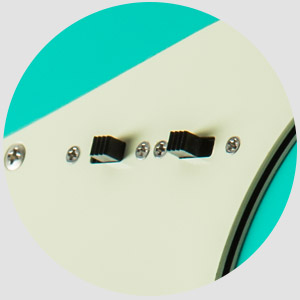 SERIES/PARALLEL SWITCHES
Two low profile slider switches allow you to switch each humbucker independantly between series or parallel.
The auto-split positions on the 5-way (2 and 4) override the series/parallel switches to easily switch to the split coil combo tones.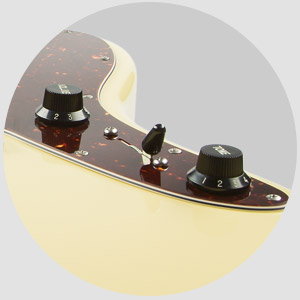 UNIQUE CONTROL LAYOUT
Countless hours were spent tweaking and fine tuning the control placement for Ian's guitar so that switching through the advanced pickup options are as comfortable, quick, and natural feeling as possible.
<p><i class="fa fa-tint home-cat" aria-hidden="true"></i></p><!-- [et_pb_line_break_holder] --><h2 class="home-cat">AVAILABLE FINISHES</h2>
Click Guitar To View Gallery
Click Guitar To View Gallery
<iframe width="560" height="315" src="https://www.youtube.com/embed/zD2EpayicHo" frameborder="0" allowfullscreen></iframe>
| | | |
| --- | --- | --- |
| BODY | | |
| | Body Shape: | Classic JM |
| | Body Finish: | Gloss |
| | Body Wood: | Roasted Alder |
| NECK | | |
| | Neck Wood: | Roasted Maple |
| | Neck Finish: | Satin |
| | Fingerboard Wood: | Indian Rosewood |
| | Neck Back Shape: | THORNLEY V SHAPE .875"-.970" |
| | Fingerboard Radius: | 16" |
| | Frets: | Jumbo Stainless Steel (.057"x.110") |
| | Nut: | 1.650" Tusq |
| | Headstock: | Laser Engraved Ian Thornley Signature |
| ELECTRONICS | | |
| | Bridge Pickup: | SSH+ (Parchment) |
| | Middle Pickup | V70 (Parchment) |
| | Neck Pickup: | SSV(Parchment) |
| | 2x Slider Switches: | Series/Parallel For Each Pickup. (Towards The Neck = Parallel, Towards The Bridge = Series) |
| | Other: | 5-way Position 3 = Both Hums |
| HARDWARE | | |
| | Tuning Machines: | Suhr Locking |
| | Bridge: | Gotoh 510 with steel block or recessed TonePros TP6 tune-o-matic. |
| | Color: | Chrome |
| | Case: | Hardshell Black |