MATEUS ASATO CLASSIC T SIGNATURE SERIES
A striking evolution of Mateus' first Classic T design in 2020, this guitar delivers a punchy and articulate tone that's perfect for both clean and overdriven playing styles. The Classic T's alder body and roasted maple neck provide a balanced and resonant foundation for Mateus' legendary tone, while the all-new gold pickguard and reversed headstock adds a touch of elegance and class.
Available with the tried and true Wilkinson 3-saddle bridge with Mateus' Signature M.A.T. pickups or with a Gotoh 510 tremolo with Lollar gold-foil pickups.

The Mateus Asato Signature Suhr Classic T in 'M.A.' White, with its timeless style and unmatched build quality, it's a reborn Classic you'll love playing for years to come.
BODY
Alder
Custom 'MA' White Gloss Finish
Matte Gold Plastic Pickguard
Gold Control Plate
NECK
Mateus Asato Custom Neck Profile
Measures .810″.890″
1.650″ Nut Width
9″-12″ compound radius
Roasted Maple neck
Indian Rosewood Fingerboard
Satin Finish
Heavy Stainless Steel Frets
PICKUPS
01-SIG-0045
Suhr M.A.T. Mateus Asato T Bridge & Neck with Suhr's SSCII (silent single coil system)
01-SIG-0046
Lollar Gold Foil Bridge & Neck (Gold)
BRIDGE
01-SIG-0045
Wilkinson 3-Saddle (Gold)
01-SIG-0046
Gotoh 510 2-post Tremolo with Bent Saddles (Gold)
TUNERS
Suhr Locking Tuners (Gold)
Proprietary Suhr locking tuners provide improved tuning stability, easy string changes, and an 18:1 gear ratio.
MATEUS SIGNATURE
Neck Plate
Signature on headstock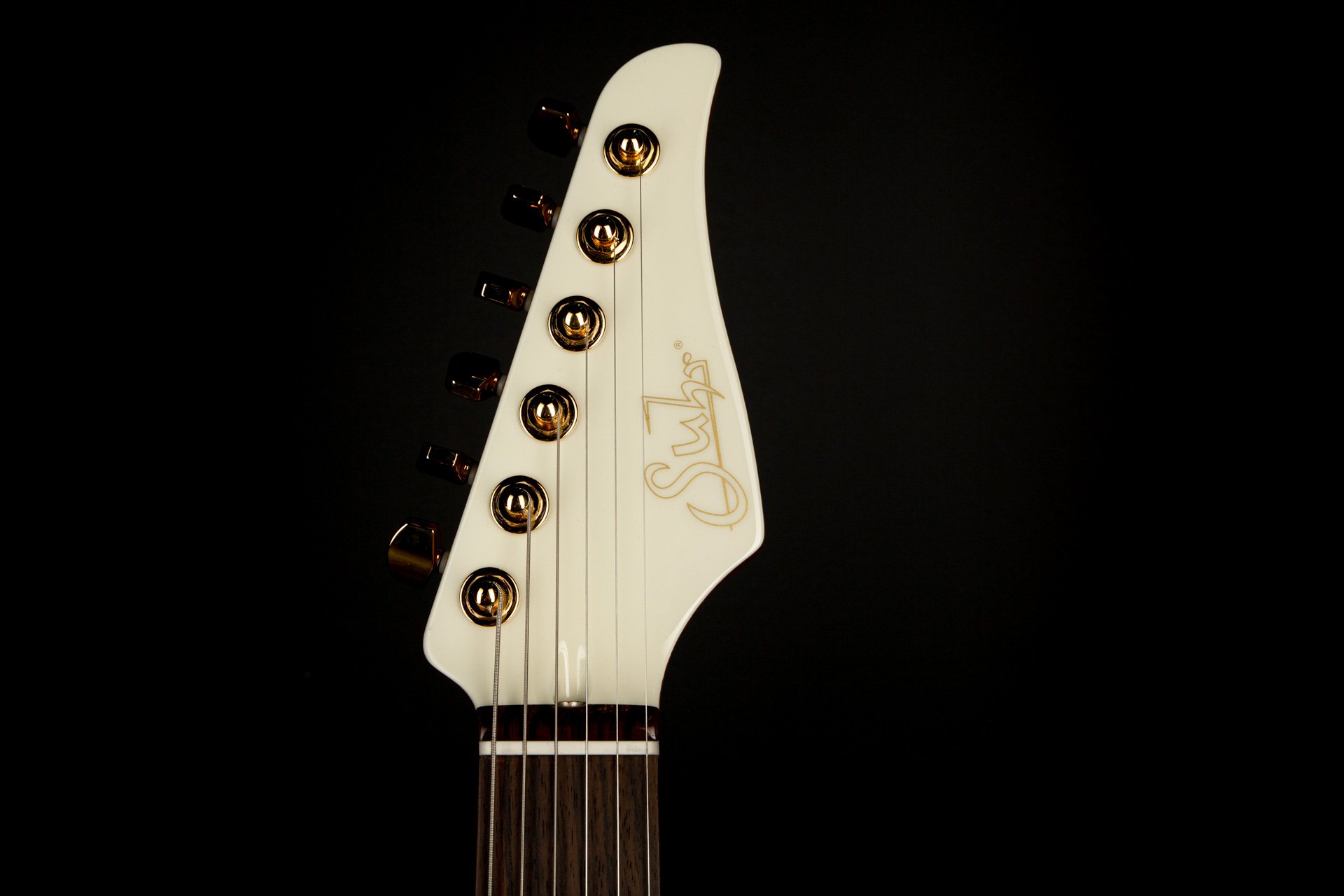 BODY
Body Shape:
Classic T
Body Wood:
Alder
Body Finish:
'MA' White
Pickguard:
Matte Gold
NECK
Neck Wood:
Roasted Maple
Fingerboard Wood:
Indian Rosewood
Neck Back Shape:
Mateus Asato Custom Neck Profile
Measures .810″.890″
Fingerboard Radius:
9"-12" Compound
Frets:
Heavy Stainless Steel (.051"x.108")
Nut:
1.650" Tusq
Neck Finish:
Satin
Headstock:
Reverse Original
Headstock Finish:
'MA' White, Gloss
Logo:
Gold Decal
ELECTRONICS
Bridge Pickup:
Mateus Asato Classic T
Neck Pickup:
Mateus Asato Classic T
SSCII:
Equipped
HARDWARE
Tuning Machines:
Suhr Locking
Bridge:
Wilkinson 3 Saddle Classic T
Color:
Gold
BODY
Body Shape:
Classic T
Body Wood:
Alder
Body Finish:
'MA' White
Pickguard:
Matte Gold
NECK
Neck Wood:
Roasted Maple
Fingerboard Wood:
Indian Rosewood
Neck Back Shape:
Mateus Asato Custom Neck Profile
Measures .810″.890″
Fingerboard Radius:
9"-12" Compound
Frets:
Heavy Stainless Steel (.051"x.108")
Nut:
1.650" Tusq
Neck Finish:
Satin
Headstock:
Original
Headstock Finish:
'MA' White, Gloss
Logo:
Gold Decal
ELECTRONICS
Bridge Pickup:
Lollar Goldfoil
Neck Pickup:
Lollar Goldfoil
SSCII:
N/A
HARDWARE
Tuning Machines:
Suhr Locking
Bridge:
Gotoh 510 2-Post, bent saddle, steel block
Color:
Gold