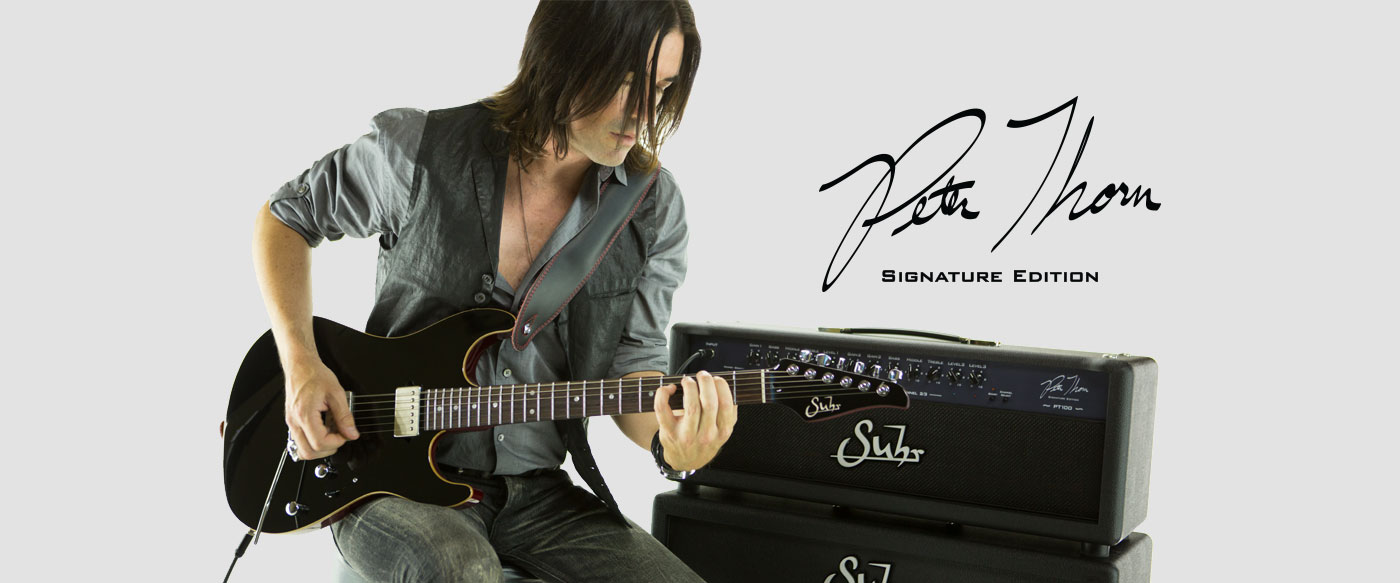 SUHR PT100 HEAD
World renowned guitarist Peter Thorn, is not only known for his touring/session work with legendary artists such as, Chris Cornell and Melissa Etheridge, but he is also considered by the guitarist community to be one of the foremost authorities on tone. After five years of extensive road testing and countless hours spent modifying his original PT-100 amplifier, we have created the ultimate, no compromise, multi-channel amp – now MIDI switchable.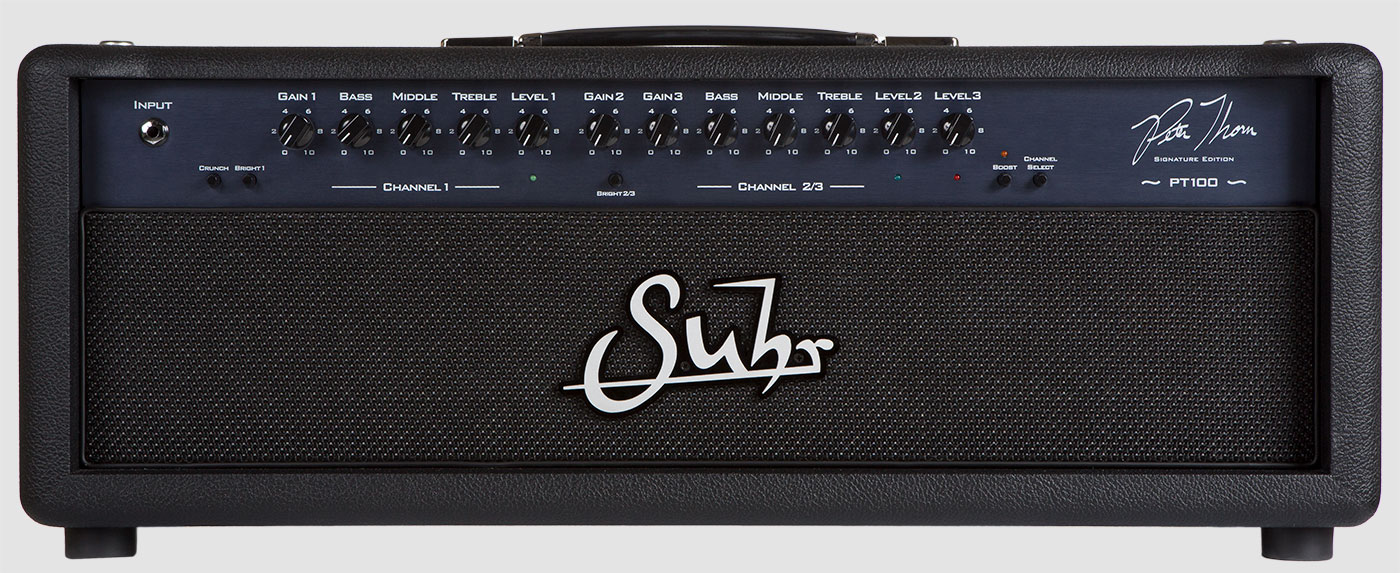 The PT-100 Signature Edition is available in a classic black tolex and appointed with black knobs and a rich midnight anodized aluminium faceplate.
The Suhr PT-100 Signature Edition features a 100 watt, three-channel tube amplifier head loaded with a custom "Plexi-style" output transformer, four EL-34 power tubes and six 12AX7 preamp tubes, a solid-state series/parallel effects loop, 4-button programmable footswitch.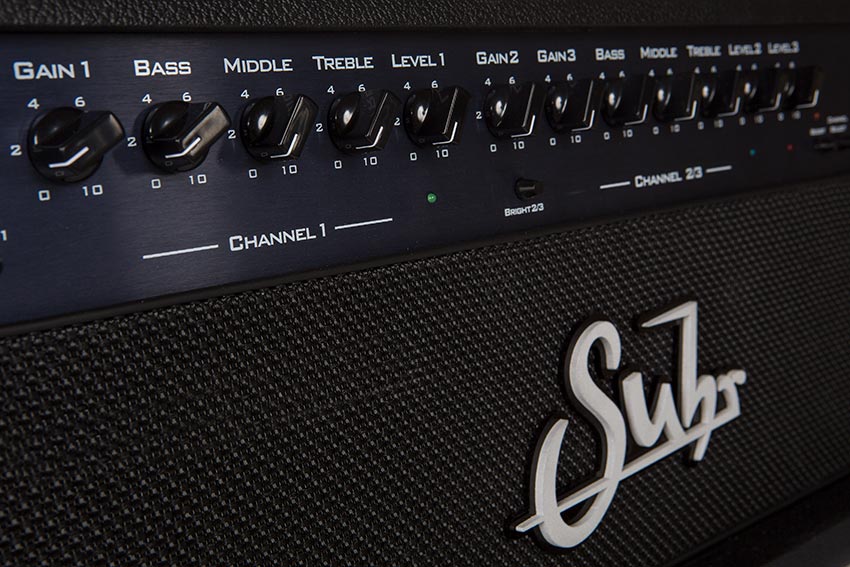 UNMATCHED VERSATILITY
The Suhr PT100 features three distinct channels offering unmatched versatility
Channel 1: The green channel is an American voiced clean with bottom end punch and seemingly limitless headroom. It responds well to pedals and has a Crunch mode that can be enabled which pushes this channel into medium gain, overdrive territory.
Channel 2: The blue channel is voiced like a vintage British style amp, but with more gain on tap. Pete wanted this channel to sound similar to another one of his favorite amps, the Suhr SL68, but with gain available in the preamp section. This is an extremely versatile channel that works equally well with low, mid, and even high gain tones.
Channel 3: The red channel is the ultimate high gain, modded British tone, that only Suhr can deliver. Its heritage is from the legendary high gain circuit of the Custom Audio Amplifiers. The gain is thick and juicy, with rich harmonic overtones and limitless sustain.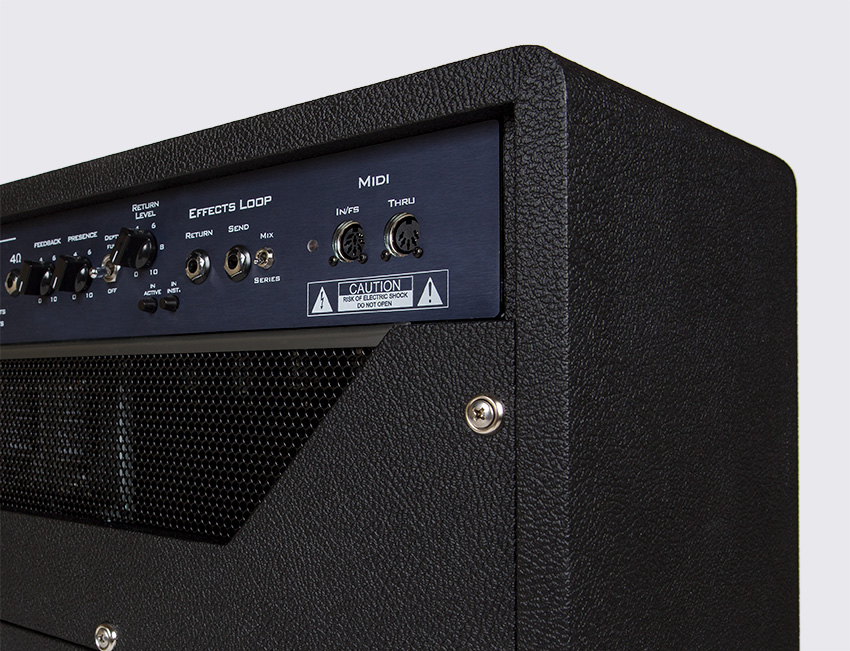 ADVANCED FUNCTIONALITY
MIDI Control: The PT100 makes it easy to connect to advanced switching systems. The channel switching functions, along with the independent mosfet boost, can all be accessed and controlled via MIDI.
Advanced Effects Loop: The versatile effects loop can be run in traditional series mode, or switched into parallel mode. Parallel effects loops blend the dry signal from the amp with the signal from the effects, which preserves the natural tone of the amp. Please note: in order to use the effects loop in parallel mode, your effects unit must be able to run 100% wet with no dry signal passing through it.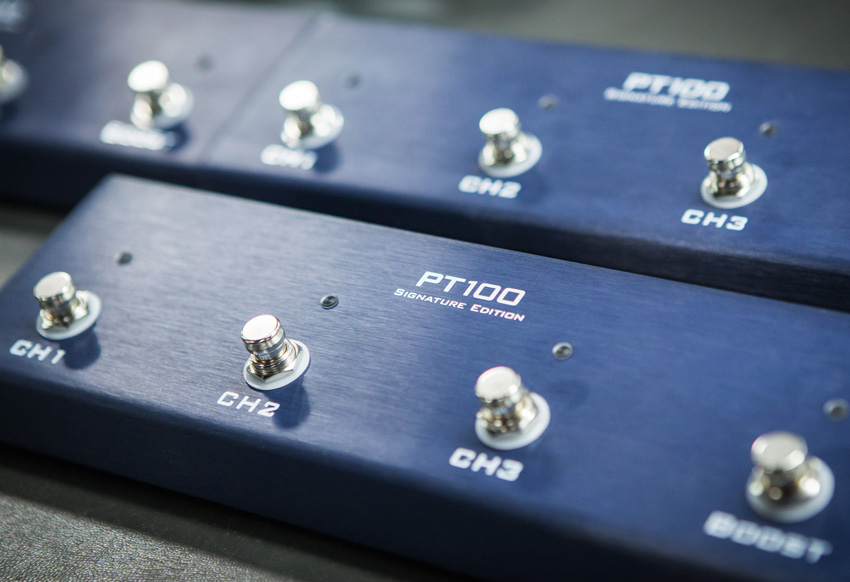 INTELLIGENT FOOTSWITCH
The included footswitch for the PT100 is connected and powered via the MIDI IN/FS jack on the back of the amp. In addition to switching the amps channels, the footswitch gives you remote access to toggle the amps mosfet boost circuit. Each channel can be programmed to have the boost on or off by default.
The high voltage mosfet boost circuit is located early in the preamp section of the amp. It can be toggled on or off at any time, on any channel, and provides a dynamic, high headroom, clean boost to the front end of the amplifier. It can be used to push the clean channel into overdrive, or increase the saturation, sustain, and harmonic content of channel two or three.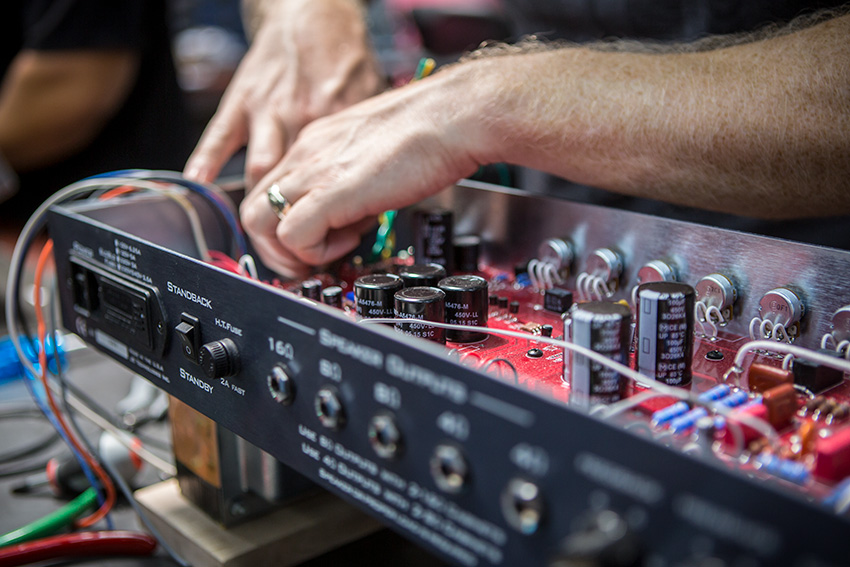 BUILT TO LAST
Designed to endure the rigors of the road, the PT100 is hand built in our Lake Elsinore, CA factory. Sturdy, dual layer circuit boards combine with hand wired pots, jacks, switches, and power tube sockets to create an amp that will endure year after year of abuse on the road.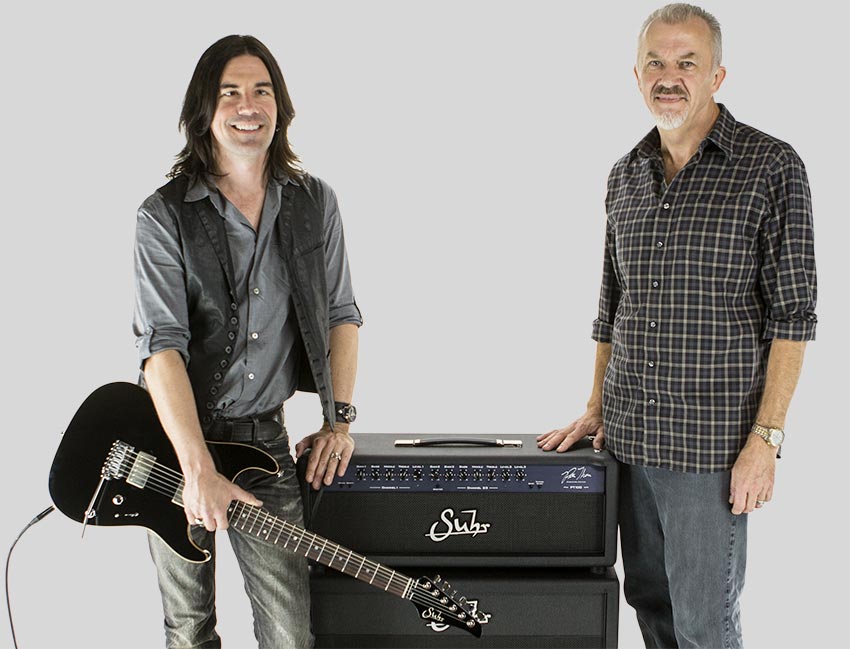 PARTNERS IN TONE
Pete Thorn and John Suhr. Pete's decades of experience in studio and touring performance, combine with John's decades of designing amplifiers to form a unique partnership. The PT100 is the culmination of five years work, tweaking, fine tuning, and shaping the PT100 platform into what it is today.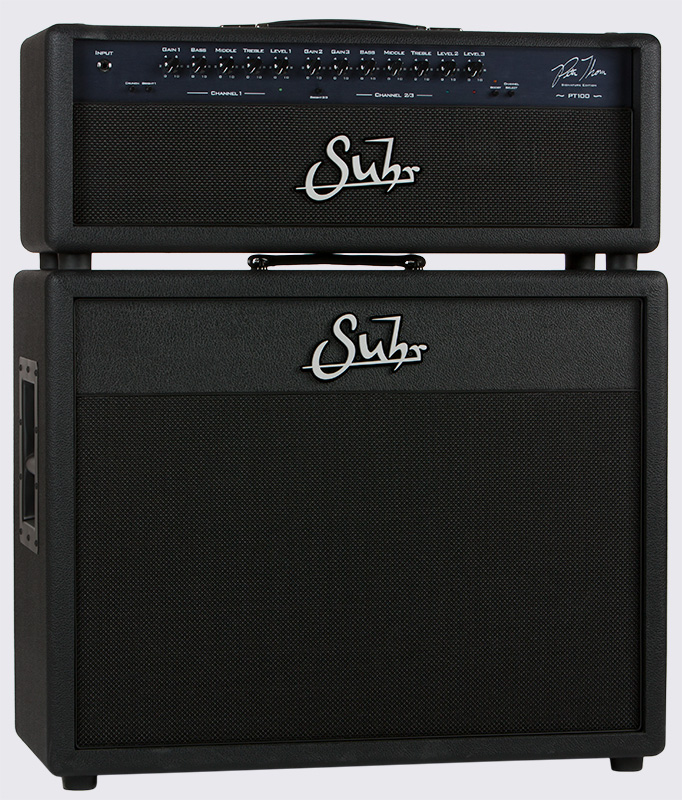 ALSO AVAILABLE!
Featuring 130 watts of power handling and loaded with Celestion Creamback speakers, the matching PT 2×12 speaker cabinet has been tuned to perfectly match the PT100 head.
Learn More...
| | |
| --- | --- |
| Output: | 100 watts RMS |
| Preamp Tubes: | 6x 12AX7 |
| Power Tubes: | 4x EL34 |
| Front Panel: | Input, (CH1) Crunch Switch, Bright Switch, Gain 1, Bass, Middle, Treble, Level 1, (CH 2/3): Bright 2/3 Switch, Gain 2, Gain 3, Bass, Middle, Treble, Level 2, Level 3, Boost Switch, Channel Select Switch |
| Back Panel: | Power Select Switch, Fuse / Power Entry Module, Standback/Standby Switch, H.T. Fuse, Speaker Outputs, (16Ω, 8Ω, & 4Ω), Feedback, Presence, Depth Switch, Effects Loop Return Level, In/Active Switch, In Inst. Switch, Send and Return Jacks, Series/Mix Switch, MIDI IN, MIDI THRU |
| Footswitch Dimensions: | 11.5" (L) x 3.26" (W) x 1.72" (H) |
| Weight: | 55lbs |
We are always here to help! Feel free to contact us with any questions, and we will do our best to help.