SUHR CLASSIC ANTIQUE METALLIC
Our popular Classic Antique model is now available in 6 dazzling vintage-inspired nitro metallic finishes. These attention-grabbing finishes add a touch of elegance to any guitar and the Classic Antique is no exception!
IMPECCABLE QUALITY, LEGENDARY PERFORMANCE
The Classic Antique Metallic features a Maple neck and Indian Rosewood fingerboard. The neck is tinted and finished in nitro-cellulose lacquer giving it an authentic vintage look and feel.
NECK PROFILE
EVEN C MEDIUM (.840″-.920″)
The Classic Antique is equipped with our Even C Medium profile. Rolled edges and a 9″-12" compound fingerboard radius offers a substantial yet comfortable shape.
FRETS
MEDIUM STAINLESS STEEL (.055″ x .090″)
Stainless steel frets offer silky smooth bending and long-lasting playability. Every Suhr receives a PLEK fret dress, ensuring the best possible string action, playability and intonation.
CONTOURED HEEL
The contoured heel of the Classic Antique allows for easier access to the upper register. For optimum tone and stability, the neck joint must not be too tight or too loose, therefore all of our neck pockets are precisely fitted by hand, by expert craftsmen.
CLASSIC BODY SHAPE
This is the standard vintage shape that many of us grew up with and has the addition of a contoured heel where the neck bolts on for easy access to all the frets. The Classic Antique features a lightly aged nitrocellulose lacquer finish.
TONE WOODS
Alder is one of the most popular guitar body woods of the 1960's and is favored by blues and rock players for its strong, clear, full-bodied sound, with beefy mids and excellent lows.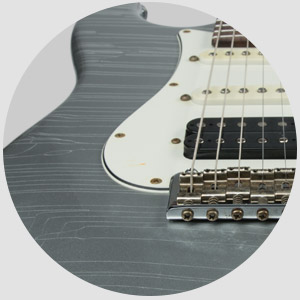 BODY FINISH
Finished in an extremely thin nitro-cellulose lacquer that features natural checking and aging.
SSCII Equipped
The SSCII is our proprietary silent single coil system. The SSCII is installed inside the body of the guitar and works with traditional single coil pickups. It reduces 60 cycle hum and has no impact on tone, no batteries to change – just transparent noise reduction.
HARDWARE & ELECTRONICS
The unique blend of locking tuners, a high performance bridge, and our proprietary SSCII noise reduction system creates the perfect combination of vintage tones with modern performance.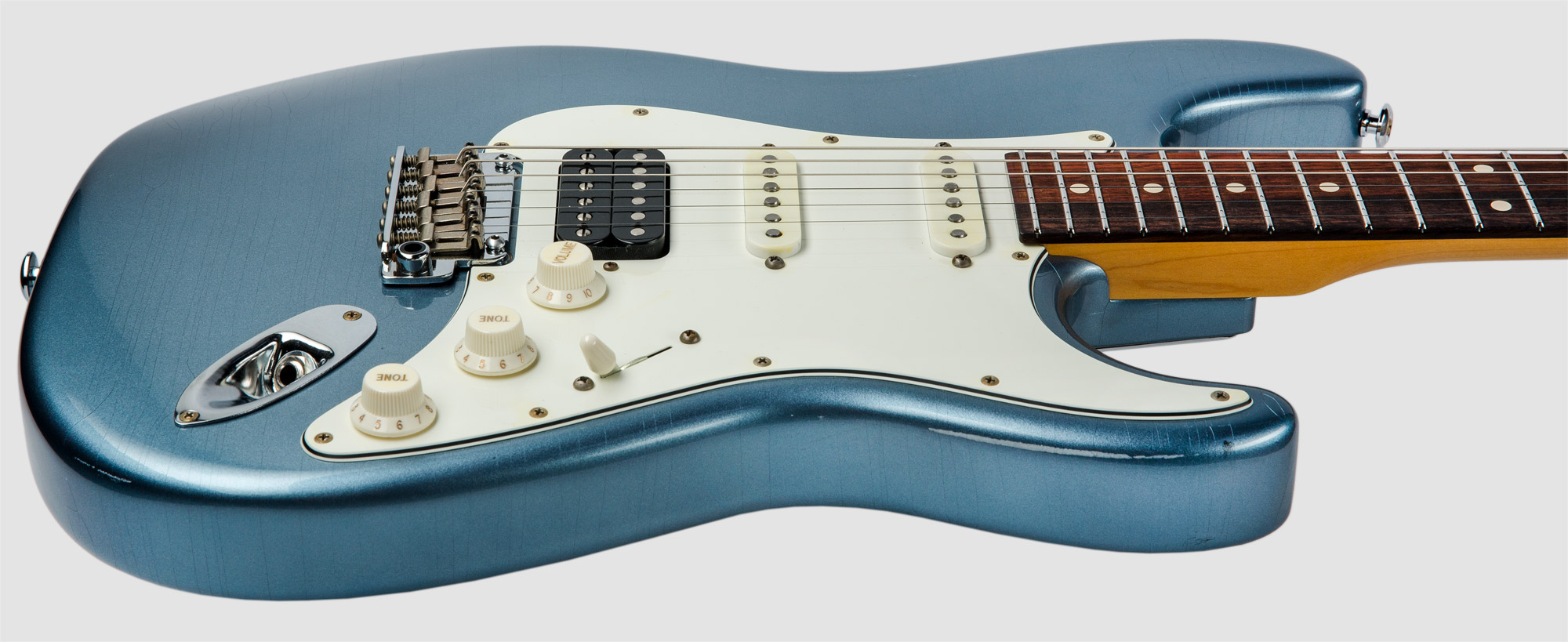 Hardware & Electronic Features
GOTOH 510
The Gotoh 510 tremolo bridge features dual steel knife edge pivot points to provide greater functionality and years of trouble free performance. The 510's steel block increases sustain and tuning stability.
HSS PICKUP CONFIGURATION
The ML (Mike Landau) Standard single-coil pickup is overwound for more output and sustain and features our proprietary modified staggered pole piece design to provide an even magnetic field. The SSV has a broad sonic aperture with very little compression, making for a dynamic, vintage output humbucker.
SUHR LOCKING TUNERS
Equipped with staggered Suhr Locking Tuners, which provide an 18:1 gear ratio, improved tuning stability, and no need for a traditional string tree.
<p><i class="fa fa-tint home-cat" aria-hidden="true"></i></p><!-- [et_pb_line_break_holder] --><h2 class="home-cat">AVAILABLE FINISHES</h2>
Click Guitar To View Gallery
Click Guitar To View Gallery
Click Guitar To View Gallery
Click Guitar To View Gallery
Click Guitar To View Gallery
Click Guitar To View Gallery
Street Price:
$2,695
SKU:
01-CLA-0061 - Candy Apple Red
01-CLA-0062 - Firemist Gold
01-CLA-0063 - Firemist Silver
01-CLA-0064 - Ocean Turquoise Metallic
01-CLA-0065 - Root Beer Metallic
01-CLA-0066 - Ice Blue Metallic
BODY
Body Shape:
Classic
Body Wood:
Alder
Body Finish:
Nitro-cellulose Lacquer
Aging Level:
Light/Medium
Pickguard:
Parchment 3-Ply
NECK
Neck Wood:
Extra Tinted Maple
Fingerboard Wood:
Indian Rosewood
Neck Back Shape:
Even C Medium .840"-.920"
Fingerboard Radius:
9"-12" Compound
Frets:
Medium Stainless Steel (.055"x.090")
Nut:
1.650" Tusq
Neck Finish:
Nitro-cellulose Lacquer
Aging Level:
Light
ELECTRONICS
Bridge Pickup:
SSV Humbucker (black)
Middle Pickup:
ML
Neck Pickup:
ML
SSCII:
Equipped
HARDWARE
Tuning Machines:
Suhr Locking
Bridge:
Gotoh 510 with steel block
Color:
Chrome
Case:
Deluxe Gig Bag
AVAILABLE NOW AT THESE PARTICIPATING SUHR DEALERS
<div class="dealer-locator" style="margin-right:20px"><!-- [et_pb_line_break_holder] --> <div id="dealer-states"><!-- [et_pb_line_break_holder] --> <ul class="states-column"><!-- [et_pb_line_break_holder] --> <li class="leftmost-section"><a href="#" class="capitalize"><h4>Georgia</h4></a><!-- [et_pb_line_break_holder] --> <ul class="drop-down-menu"><!-- [et_pb_line_break_holder] --> <li><!-- [et_pb_line_break_holder] --> <h5>Humbucker Music</h5><!-- [et_pb_line_break_holder] --> <p>20 Direct Connection Drive<!-- [et_pb_line_break_holder] --> <br>Rossville, GA, 30741<!-- [et_pb_line_break_holder] --> <br>706-866-2161<!-- [et_pb_line_break_holder] --> <br><a href="https://www.humbuckermusic.com/" target="_blank" class="dealer-link">www.humbuckermusic.com</a></p><!-- [et_pb_line_break_holder] --> </li><!-- [et_pb_line_break_holder] --> </ul><!-- [et_pb_line_break_holder] --> </li><!-- [et_pb_line_break_holder] --> <li class="leftmost-section"><a href="#" class="capitalize"><h4>Illinois</h4></a><!-- [et_pb_line_break_holder] --> <ul class="drop-down-menu"><!-- [et_pb_line_break_holder] --> <li><!-- [et_pb_line_break_holder] --> <h5>Chicago Music Exchange</h5><!-- [et_pb_line_break_holder] --> <p>3316 N. Lincoln Ave.<!-- [et_pb_line_break_holder] --> <br>Chicago, IL, 60657<!-- [et_pb_line_break_holder] --> <br>888-686-7872<!-- [et_pb_line_break_holder] --> <br><a href="https://www.chicagomusicexchange.com/" target="_blank" class="dealer-link">www.chicagomusicexchange.com</a></p><!-- [et_pb_line_break_holder] --> </li><!-- [et_pb_line_break_holder] --> <li><!-- [et_pb_line_break_holder] --> <h5>Mojo's Music</h5><!-- [et_pb_line_break_holder] --> <p>142 N. Main Street<!-- [et_pb_line_break_holder] --> <br>Edwardsville, IL, 62025<!-- [et_pb_line_break_holder] --> <br>618-655-1600<!-- [et_pb_line_break_holder] --> <br><a href="http://www.mojosmusic.com/" target="_blank" class="dealer-link">www.mojosmusic.com</a></p><!-- [et_pb_line_break_holder] --> </li><!-- [et_pb_line_break_holder] --> </ul><!-- [et_pb_line_break_holder] --> </li><!-- [et_pb_line_break_holder] --> <li class="leftmost-section"><a href="#" class="capitalize"><h4>Iowa</h4></a><!-- [et_pb_line_break_holder] --> <ul class="drop-down-menu"><!-- [et_pb_line_break_holder] --> <li><!-- [et_pb_line_break_holder] --> <h5>Lidgett Music</h5><!-- [et_pb_line_break_holder] --> <p>150 W Broadway<!-- [et_pb_line_break_holder] --> <br>Council Bluffs, IA, 51503<!-- [et_pb_line_break_holder] --> <br>712-322-0200<!-- [et_pb_line_break_holder] --> <br><a href="http://www.lidgettmusic.com/" target="_blank" class="dealer-link">www.lidgettmusic.com</a></p><!-- [et_pb_line_break_holder] --> </li><!-- [et_pb_line_break_holder] --> </ul><!-- [et_pb_line_break_holder] --> </li><!-- [et_pb_line_break_holder] --> <li class="leftmost-section"><a href="#" class="capitalize"><h4>Michigan</h4></a><!-- [et_pb_line_break_holder] --> <ul class="drop-down-menu"><!-- [et_pb_line_break_holder] --> <li><!-- [et_pb_line_break_holder] --> <h5>Huber Breese Music</h5><!-- [et_pb_line_break_holder] --> <p>33540 Groesbeck Hwy<!-- [et_pb_line_break_holder] --> <br>Fraser, MI 48026<!-- [et_pb_line_break_holder] --> <br>586-294-3950<!-- [et_pb_line_break_holder] --> <br><a href="https://huberbreese.com/" target="_blank" class="dealer-link">huberbreese.com/</a></p><!-- [et_pb_line_break_holder] --> </li><!-- [et_pb_line_break_holder] --> </ul><!-- [et_pb_line_break_holder] --> </li><!-- [et_pb_line_break_holder] --> <li class="leftmost-section"><a href="#" class="capitalize"><h4>Massachusetts</h4></a><!-- [et_pb_line_break_holder] --> <ul class="drop-down-menu"><!-- [et_pb_line_break_holder] --> <li><!-- [et_pb_line_break_holder] --> <h5>Matt's Music Center Inc.</h5><!-- [et_pb_line_break_holder] --> <p>1597 Main St<!-- [et_pb_line_break_holder] --> <br>Weymouth , MA, 02190<!-- [et_pb_line_break_holder] --> <br>781-335-0700<!-- [et_pb_line_break_holder] --> <br><a href="http://www.mattsmusic.com" target="_blank" class="dealer-link">www.mattsmusic.com</a></p><!-- [et_pb_line_break_holder] --> </li><!-- [et_pb_line_break_holder] --> </ul><!-- [et_pb_line_break_holder] --> </li><!-- [et_pb_line_break_holder] --> <li class="leftmost-section"><a href="#" class="capitalize"><h4>Missouri</h4></a><!-- [et_pb_line_break_holder] --> <ul class="drop-down-menu"><!-- [et_pb_line_break_holder] --> <li><!-- [et_pb_line_break_holder] --> <h5>Eddie's Guitars</h5><!-- [et_pb_line_break_holder] --> <p>7362 Manchester Road<!-- [et_pb_line_break_holder] --> <br>St. Louis, MO, 63143<!-- [et_pb_line_break_holder] --> <br>314-781-7500<!-- [et_pb_line_break_holder] --> <br><a href="https://eddiesguitars.com/" target="_blank" class="dealer-link">eddiesguitars.com/</a></p><!-- [et_pb_line_break_holder] --> </li><!-- [et_pb_line_break_holder] --> </ul><!-- [et_pb_line_break_holder] --> </li><!-- [et_pb_line_break_holder] --> <li class="leftmost-section"><a href="#" class="capitalize"><h4>North Carolina</h4></a><!-- [et_pb_line_break_holder] --> <ul class="drop-down-menu"><!-- [et_pb_line_break_holder] --> <li><!-- [et_pb_line_break_holder] --> <h5>SoundPure / Indoor Storm</h5><!-- [et_pb_line_break_holder] --> <p>808 Washington St.<!-- [et_pb_line_break_holder] --> <br>Durham, NC, 27701<!-- [et_pb_line_break_holder] --> <br>888-528-9703<!-- [et_pb_line_break_holder] --> <br><a href="http://www.soundpure.com/" target="_blank" class="dealer-link">www.soundpure.com/</a></p><!-- [et_pb_line_break_holder] --> </li><!-- [et_pb_line_break_holder] --> </ul><!-- [et_pb_line_break_holder] --> </li><!-- [et_pb_line_break_holder] --> <li class="leftmost-section"><a href="#" class="capitalize"><h4>New Jersey</h4></a><!-- [et_pb_line_break_holder] --> <ul class="drop-down-menu"><!-- [et_pb_line_break_holder] --> <li><!-- [et_pb_line_break_holder] --> <h5>Golden Age Fretted Instruments</h5><!-- [et_pb_line_break_holder] --> <p>309 South Avenue West<!-- [et_pb_line_break_holder] --> <br>Westfield, NJ, 07090<!-- [et_pb_line_break_holder] --> <br>908-301-0001<!-- [et_pb_line_break_holder] --> <br><a href="http://goldenageguitars.com/" target="_blank" class="dealer-link">goldenageguitars.com</a></p><!-- [et_pb_line_break_holder] --> </li><!-- [et_pb_line_break_holder] --> </ul><!-- [et_pb_line_break_holder] --> </li><!-- [et_pb_line_break_holder] --> <li class="leftmost-section"><a href="#" class="capitalize"><h4>New York</h4></a><!-- [et_pb_line_break_holder] --> <ul class="drop-down-menu"><!-- [et_pb_line_break_holder] --> <li><!-- [et_pb_line_break_holder] --> <h5>Music Zoo</h5><!-- [et_pb_line_break_holder] --> <p>55 Lumber Rd<!-- [et_pb_line_break_holder] --> <br>Roslyn, NY, 11576<!-- [et_pb_line_break_holder] --> <br>516-626-9292<!-- [et_pb_line_break_holder] --> <br><a href="http://www.themusiczoo.com/" target="_blank" class="dealer-link">www.themusiczoo.net</a></p><!-- [et_pb_line_break_holder] --> </li><!-- [et_pb_line_break_holder] --> </ul><!-- [et_pb_line_break_holder] --> </li><!-- [et_pb_line_break_holder] --> <li class="leftmost-section"><a href="#" class="capitalize"><h4>Pennsylvania</h4></a><!-- [et_pb_line_break_holder] --> <ul class="drop-down-menu"><!-- [et_pb_line_break_holder] --> <li><!-- [et_pb_line_break_holder] --> <h5>N Stuff Music</h5><!-- [et_pb_line_break_holder] --> <p>468 Freeport Road<!-- [et_pb_line_break_holder] --> <br>Pittsburgh, PA, 15238<!-- [et_pb_line_break_holder] --> <br>412-828-1003<!-- [et_pb_line_break_holder] --> <br><a href="http://www.nstuffmusic.com" target="_blank" class="dealer-link">www.nstuffmusic.com</a></p><!-- [et_pb_line_break_holder] --> </li><!-- [et_pb_line_break_holder] --> </ul><!-- [et_pb_line_break_holder] --> </li><!-- [et_pb_line_break_holder] --> <li class="leftmost-section"><a href="#" class="capitalize"><h4>Tennessee</h4></a><!-- [et_pb_line_break_holder] --> <ul class="drop-down-menu"><!-- [et_pb_line_break_holder] --> <li><!-- [et_pb_line_break_holder] --> <h5>Martin Music</h5><!-- [et_pb_line_break_holder] --> <p>1659 Poplar Ave.<!-- [et_pb_line_break_holder] --> <br>Memphis, TN, 38104<!-- [et_pb_line_break_holder] --> <br>901-729-2466<!-- [et_pb_line_break_holder] --> <br><a href="http://www.martinmusicguitar.com/" target="_blank" class="dealer-link">www.martinmusicguitar.com</a></p><!-- [et_pb_line_break_holder] --> </li><!-- [et_pb_line_break_holder] --> </ul><!-- [et_pb_line_break_holder] --> </li><!-- [et_pb_line_break_holder] --><!-- [et_pb_line_break_holder] --> <li class="leftmost-section"><a href="#" class="capitalize"><h4>Texas</h4></a><!-- [et_pb_line_break_holder] --> <ul class="drop-down-menu"><!-- [et_pb_line_break_holder] --> <li><!-- [et_pb_line_break_holder] --> <h5>Austin Guitar House</h5><!-- [et_pb_line_break_holder] --> <p>2206 W. Anderson Lane<!-- [et_pb_line_break_holder] --> <br>Austin, TX, 78757<!-- [et_pb_line_break_holder] --> <br>512-243-6036<!-- [et_pb_line_break_holder] --> <br><a href="https://www.austinguitarhouse.com/" target="_blank" class="dealer-link">www.austinguitarhouse.com</a></p><!-- [et_pb_line_break_holder] --> </li><!-- [et_pb_line_break_holder] --> </ul><!-- [et_pb_line_break_holder] --> </li><!-- [et_pb_line_break_holder] --> </ul><!-- [et_pb_line_break_holder] --> </div><!-- [et_pb_line_break_holder] --></div>
<div class="dealer-locator"><!-- [et_pb_line_break_holder] --> <div id="dealer-countries"><!-- [et_pb_line_break_holder] --> <ul class="states-column"><!-- [et_pb_line_break_holder] --> <li class="leftmost-section"><a href="#" class="capitalize"><h4>Canada</h4></a><!-- [et_pb_line_break_holder] --> <ul class="drop-down-menu"><!-- [et_pb_line_break_holder] --> <li><!-- [et_pb_line_break_holder] --> <h5>Guitarworks Canada</h5><!-- [et_pb_line_break_holder] --> <p>602 16th Avenue NW<!-- [et_pb_line_break_holder] --> <br>Calgary, AB T2M 0J7<!-- [et_pb_line_break_holder] --> <br>Canada<!-- [et_pb_line_break_holder] --> <br>Phone: 403-284-2866<!-- [et_pb_line_break_holder] --> <br><a href="http://www.guitarworks.ca/" target="_blank" class="dealer-link">www.guitarworks.ca/</a></p><!-- [et_pb_line_break_holder] --> </li><!-- [et_pb_line_break_holder] --> <li><!-- [et_pb_line_break_holder] --> <h5>Lauzon Music Centre</h5><!-- [et_pb_line_break_holder] --> <p>1345 Wellington St. W.<!-- [et_pb_line_break_holder] --> <br>Ottawa, Ontario<!-- [et_pb_line_break_holder] --> <br>Canada<!-- [et_pb_line_break_holder] --> <br>Phone: 613-725-1116<!-- [et_pb_line_break_holder] --> <br><a href="http://www.lauzonmusic.com" target="_blank" class="dealer-link">www.lauzonmusic.com</a></p><!-- [et_pb_line_break_holder] --> </li><!-- [et_pb_line_break_holder] --> <li><!-- [et_pb_line_break_holder] --> <h5>Stang Guitars</h5><!-- [et_pb_line_break_holder] --> <p>9939-76th Avenue NW<!-- [et_pb_line_break_holder] --> <br>Edmonton AB T6E 1K8<!-- [et_pb_line_break_holder] --> <br>Canada<!-- [et_pb_line_break_holder] --> <br>Phone: 1 780-757-8264<!-- [et_pb_line_break_holder] --> <br><a href="http://www.stangguitars.com/" target="_blank" class="dealer-link">www.stangguitars.com</a></p><!-- [et_pb_line_break_holder] --> </li><!-- [et_pb_line_break_holder] --> </ul><!-- [et_pb_line_break_holder] --> </li><!-- [et_pb_line_break_holder] --> <li class="leftmost-section"><a href="#" class="capitalize"><h4>China</h4></a><!-- [et_pb_line_break_holder] --> <ul class="drop-down-menu"><!-- [et_pb_line_break_holder] --> <li><!-- [et_pb_line_break_holder] --> <h5>Guitarcube Co.LTD China</h5><!-- [et_pb_line_break_holder] --> <p>Beijing, China<!-- [et_pb_line_break_holder] --> <br>Phone: +49 60 2970 2970<!-- [et_pb_line_break_holder] --> <br><a href="http://www.guitarcube.com/" target="_blank" class="dealer-link">www.guitarcube.com</a></p><!-- [et_pb_line_break_holder] --> </li><!-- [et_pb_line_break_holder] --> </ul><!-- [et_pb_line_break_holder] --> </li><!-- [et_pb_line_break_holder] --> <li class="leftmost-section"><a href="#" class="capitalize"><h4>France</h4></a><!-- [et_pb_line_break_holder] --> <ul class="drop-down-menu"><!-- [et_pb_line_break_holder] --> <li><!-- [et_pb_line_break_holder] --> <h5>Guitars Rebellion</h5><!-- [et_pb_line_break_holder] --> <p>11 Rue René Goscinny,<!-- [et_pb_line_break_holder] --> <br>Paris, France<!-- [et_pb_line_break_holder] --> <br>Phone: +33 (0)1 45 86 49 80<!-- [et_pb_line_break_holder] --> <br><a href="http://www.guitarsrebellion.com/" target="_blank" class="dealer-link">www.guitarsrebellion.com</a></p><!-- [et_pb_line_break_holder] --> </li><!-- [et_pb_line_break_holder] --> </ul><!-- [et_pb_line_break_holder] --> </li><!-- [et_pb_line_break_holder] --> <li class="leftmost-section"><a href="#" class="capitalize"><h4>Indonesia</h4></a><!-- [et_pb_line_break_holder] --> <ul class="drop-down-menu"><!-- [et_pb_line_break_holder] --> <li><!-- [et_pb_line_break_holder] --> <h5>Hiendguitar</h5><!-- [et_pb_line_break_holder] --> <p>The Plaza Semanggi lt3 no 10<!-- [et_pb_line_break_holder] --> <br>Jakarta<!-- [et_pb_line_break_holder] --> <br>Indonesia<!-- [et_pb_line_break_holder] --> <br>Phone: 62-818-734214<!-- [et_pb_line_break_holder] --> <br><a href="http://www.hiendguitar.com/" target="_blank" class="dealer-link">www.hiendguitar.com</a></p><!-- [et_pb_line_break_holder] --> </li><!-- [et_pb_line_break_holder] --> </ul><!-- [et_pb_line_break_holder] --> </li><!-- [et_pb_line_break_holder] --> <li class="leftmost-section"><a href="#" class="capitalize"><h4>Italy</h4></a><!-- [et_pb_line_break_holder] --> <ul class="drop-down-menu"><!-- [et_pb_line_break_holder] --> <li><!-- [et_pb_line_break_holder] --> <h5>Backline</h5><!-- [et_pb_line_break_holder] --> <p>Via dell' Aprica 16,<!-- [et_pb_line_break_holder] --> <br>20158 Milano<!-- [et_pb_line_break_holder] --> <br>Italy<!-- [et_pb_line_break_holder] --> <br>Phone: 39-02-69015709<!-- [et_pb_line_break_holder] --> <br><a href="http://www.backline.it" target="_blank" class="dealer-link">www.backline.it</a></p><!-- [et_pb_line_break_holder] --> </li><!-- [et_pb_line_break_holder] --> </ul><!-- [et_pb_line_break_holder] --> </li><!-- [et_pb_line_break_holder] --> <li class="leftmost-section"><a href="#" class="capitalize"><h4>Japan</h4></a><!-- [et_pb_line_break_holder] --> <ul class="drop-down-menu"><!-- [et_pb_line_break_holder] --> <li><!-- [et_pb_line_break_holder] --> <h5>Okada International, Japan</h5><!-- [et_pb_line_break_holder] --> <p>2-15-8 Setagaya-ku Tamazutsumi<!-- [et_pb_line_break_holder] --> <br>Tokyo<!-- [et_pb_line_break_holder] --> <br>Japan<!-- [et_pb_line_break_holder] --> <br>Phone: 03-3703-3221<!-- [et_pb_line_break_holder] --> <br><a href="http://www.okada-web.com/" target="_blank" class="dealer-link">www.okada-web.com/</a></p><!-- [et_pb_line_break_holder] --> </li><!-- [et_pb_line_break_holder] --> </ul><!-- [et_pb_line_break_holder] --> </li><!-- [et_pb_line_break_holder] --> <li class="leftmost-section"><a href="#" class="capitalize"><h4>South Korea</h4></a><!-- [et_pb_line_break_holder] --> <ul class="drop-down-menu"><!-- [et_pb_line_break_holder] --> <li><!-- [et_pb_line_break_holder] --> <h5>Music Force Global Networks Co., Ltd.</h5><!-- [et_pb_line_break_holder] --> <p>Seoul<!-- [et_pb_line_break_holder] --> <br>South Korea<!-- [et_pb_line_break_holder] --> <br>Phone: 82-2-548-5150<!-- [et_pb_line_break_holder] --> <br><a href="http://www.musicforce.co.kr/" target="_blank" class="dealer-link">www.musicforce.co.kr</a></p><!-- [et_pb_line_break_holder] --> </li><!-- [et_pb_line_break_holder] --> </ul><!-- [et_pb_line_break_holder] --> </li><!-- [et_pb_line_break_holder] --> <li class="leftmost-section"><a href="#" class="capitalize"><h4>Taiwan</h4></a><!-- [et_pb_line_break_holder] --> <ul class="drop-down-menu"><!-- [et_pb_line_break_holder] --> <li><!-- [et_pb_line_break_holder] --> <h5>KAI Eastern Taiwan Inc.</h5><!-- [et_pb_line_break_holder] --> <p>125, Lane 482, Ta-Tung Road Sec. 2, <!-- [et_pb_line_break_holder] --> <br>Tainan City<!-- [et_pb_line_break_holder] --> <br>Taiwan<!-- [et_pb_line_break_holder] --> <br>Phone: 886-6-2140016<!-- [et_pb_line_break_holder] --> <br><a href="http://www.kaieastern.com.tw/" target="_blank" class="dealer-link">www.kaieastern.com.tw</a></p><!-- [et_pb_line_break_holder] --> </li><!-- [et_pb_line_break_holder] --> </ul><!-- [et_pb_line_break_holder] --> </li><!-- [et_pb_line_break_holder] --> <li class="leftmost-section"><a href="#" class="capitalize"><h4>Thailand</h4></a><!-- [et_pb_line_break_holder] --> <ul class="drop-down-menu"><!-- [et_pb_line_break_holder] --> <li><!-- [et_pb_line_break_holder] --> <h5>Sweet Sound Bangkok</h5><!-- [et_pb_line_break_holder] --> <p>Ram Inthra - At Narong Expy, Khwaeng Phlabphla, Khet Wang Thonglang, Krung Thep Maha Nakhon<!-- [et_pb_line_break_holder] --> <br>Bangkok 10310<!-- [et_pb_line_break_holder] --> <br>Thailand<!-- [et_pb_line_break_holder] --> <br>Phone: 662-933-9847 /6681-613-4491<!-- [et_pb_line_break_holder] --> <br><a href="http://www.sweetsoundbangkok.com" target="_blank" class="dealer-link">www.sweetsoundbangkok.com</a></p><!-- [et_pb_line_break_holder] --> </li><!-- [et_pb_line_break_holder] --> </ul><!-- [et_pb_line_break_holder] --> </li><!-- [et_pb_line_break_holder] --> <li class="leftmost-section"><a href="#" class="capitalize"><h4>United Kingdom</h4></a><!-- [et_pb_line_break_holder] --> <ul class="drop-down-menu"><!-- [et_pb_line_break_holder] --> <li><!-- [et_pb_line_break_holder] --> <h5>Guitar Guitar</h5><!-- [et_pb_line_break_holder] --> <p>100 Hagley Road Edgbaston<!-- [et_pb_line_break_holder] --> <br>Birmingham<!-- [et_pb_line_break_holder] --> <br>United Kingdom<!-- [et_pb_line_break_holder] --> <br>Phone: 0121 456 1904<!-- [et_pb_line_break_holder] --> <br><a href="https://www.guitarguitar.co.uk" target="_blank" class="dealer-link">www.guitarguitar.co.uk</a></p><!-- [et_pb_line_break_holder] --> </li><!-- [et_pb_line_break_holder] --> <li><!-- [et_pb_line_break_holder] --> <h5>Guitar Guitar</h5><!-- [et_pb_line_break_holder] --> <p>27 Grainger Street<!-- [et_pb_line_break_holder] --> <br>Newcastle<!-- [et_pb_line_break_holder] --> <br>United Kingdom<!-- [et_pb_line_break_holder] --> <br><a href="https://www.guitarguitar.co.uk" target="_blank" class="dealer-link">www.guitarguitar.co.uk</a></p><!-- [et_pb_line_break_holder] --> </li><!-- [et_pb_line_break_holder] --> <li><!-- [et_pb_line_break_holder] --> <h5>Guitar Guitar</h5><!-- [et_pb_line_break_holder] --> <p>283-287 St Johns Road<!-- [et_pb_line_break_holder] --> <br>Edinburgh<!-- [et_pb_line_break_holder] --> <br>United Kingdom<!-- [et_pb_line_break_holder] --> <br>Phone: 0131 334 7100<!-- [et_pb_line_break_holder] --> <br><a href="https://www.guitarguitar.co.uk" target="_blank" class="dealer-link">www.guitarguitar.co.uk</a></p><!-- [et_pb_line_break_holder] --> </li><!-- [et_pb_line_break_holder] --> <li><!-- [et_pb_line_break_holder] --> <h5>Guitar Guitar</h5><!-- [et_pb_line_break_holder] --> <p>36 Trongate<!-- [et_pb_line_break_holder] --> <br>Glasgow<!-- [et_pb_line_break_holder] --> <br>United Kingdom<!-- [et_pb_line_break_holder] --> <br>Phone: 0141 552 9896<!-- [et_pb_line_break_holder] --> <br><a href="https://www.guitarguitar.co.uk" target="_blank" class="dealer-link">www.guitarguitar.co.uk</a></p><!-- [et_pb_line_break_holder] --> </li><!-- [et_pb_line_break_holder] --> <li><!-- [et_pb_line_break_holder] --> <h5>Guitar Guitar</h5><!-- [et_pb_line_break_holder] --> <p>6 Capitol Square, Church St<!-- [et_pb_line_break_holder] --> <br>Epsom, KT17 4NY<!-- [et_pb_line_break_holder] --> <br>United Kingdom<!-- [et_pb_line_break_holder] --> <br>Phone: 01372 730578<!-- [et_pb_line_break_holder] --> <br><a href="https://www.guitarguitar.co.uk" target="_blank" class="dealer-link">www.guitarguitar.co.uk</a></p><!-- [et_pb_line_break_holder] --> </li><!-- [et_pb_line_break_holder] --> </ul><!-- [et_pb_line_break_holder] --> </li><!-- [et_pb_line_break_holder] --> </ul><!-- [et_pb_line_break_holder] --> </div><!-- [et_pb_line_break_holder] --></div>