The Suhr 80's Shred will bring you back to the glory days when shred was king. When it was all about big hair, spandex and how many notes you could fit into one solo. Guitarists everywhere sought the ultimate in playability and over-the-top styling to set themselves apart.
This our friends, is the culmination of that quest for shred.
IMPECCABLE QUALITY, LEGENDARY PERFORMANCE
The Suhr 80s Shred MKII comes with a Maple neck and your choice of either Maple or Ebony fingerboard. The Maple neck with Maple fingerboard produce a muscular tone with strong mids and a percussive attack. Choose the Ebony fingerboard for a slightly more scooped tone.
NECK PROFILE
MODERN ELLIPTICAL (.780″-.830″)
The 80s Shred MKII is equipped with our slimmest elliptical neck profile, and a flat 16″ fingerboard radius. The shred is strong with this one!
FRETS
JUMBO STAINLESS STEEL (.057″ x .110″)
Stainless steel frets offer silky smooth bending and long-lasting playability. Every Suhr receives a PLEK fret dress, ensuring the best possible string action, playability and intonation.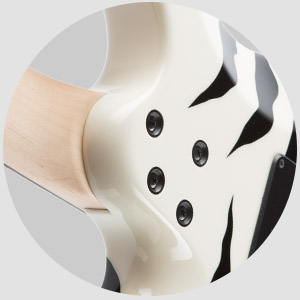 SCULPTED HEEL
The sculpted heel of the Modern allows for easy access to all 24 frets. For optimum tone and stability, the neck joint must not be too tight or too loose, therefore all of our neck pockets are precisely fitted by hand, by expert craftsmen.
MODERN BODY SHAPE
A sleek take on the Classic design. The body is slightly downsized when compared to a Classic. It has a sharper radius on the edges and slightly longer horns to give it a modern, yet classy look.
TONE WOODS
Alder, a popular body wood for shred machines of the past, offer a strong, clear, full-bodied sound, with beefy mids and excellent lows.
TIGER STRIPE MKII
Every tiger earns its stripes! This time, in black and Olympic White.
NEON DRIP MKII
Matching spandex not included.
HARDWARE & ELECTRONICS
The Gotoh Floyd Rose double-locking tremolo system keeps your tuning locked down while you dive bomb to your heart's content. Armed with our high-output Aldrich humbuckers the 80's Shred covers everything from chunky low string riffing to screaming high string bends with ease.
Hardware & Electronic Features
GOTOH FLOYD BRIDGE
The Gotoh Floyd Rose is a double-locking tremolo that features hardened steel saddles and locking studs for improved performance and tuning stability.
HH PICKUP CONFIG
Two Aldrich humbuckers, a single volume control, and a 5-way mega-switch offer up a surprising amount of versatility. Position 4 on the 5-way selector switch will auto-split the humbucker when combined with the middle pickup.The 5-way selector switch gives you two split-coil tones. Position 2 splits the neck humbucker, and position 4 splits both humbuckers.
KILL SWITCH
A momentary push button kill switch lets you easily pull of your favorite stutter effects.
<p><i class="fa fa-tint home-cat" aria-hidden="true"></i></p><!-- [et_pb_line_break_holder] --><h2 class="home-cat">AVAILABLE FINISHES</h2>
Click Guitar To View Gallery
Click Guitar To View Gallery
<iframe width="560" height="315" src="https://www.youtube.com/embed/LYEhvRPvOHg" frameborder="0" allowfullscreen></iframe>
SPECS:
| | | |
| --- | --- | --- |
| Street Price: | $3,766 | |
| SKU: | 01-80S | |
| BODY | | |
| | Body Shape: | Modern |
| | Body Wood: | Alder |
| NECK | | |
| | Neck Wood: | Maple |
| | Fingerboard Wood: | Maple or Ebony |
| | Neck Back Shape: | Modern Elliptical .780"-.83.0" |
| | Fingerboard Radius: | 16" |
| | Frets: | Jumbo Stainless Steel (.057"x.110") |
| | Nut: | 1.650" Tusq or Floyd Locking |
| ELECTRONICS | | |
| | Bridge Pickup: | Aldrich (Black) |
| | Neck Pickup: | Aldrich (Black) |
| HARDWARE | | |
| | Tuning Machines: | Suhr Locking |
| | Bridge: | Gotoh Floyd Rose |
| | Color: | Black |