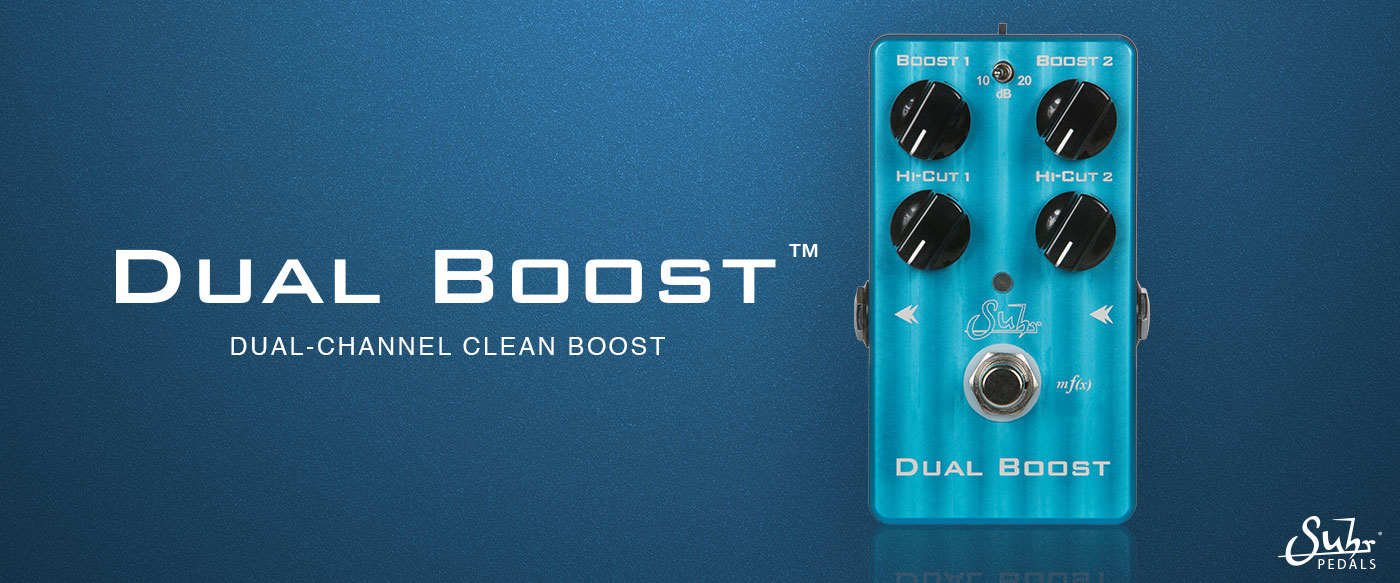 SUHR DUAL BOOST PEDAL
The Dual Boost is a versatile, dual-mode, transparent clean boost, housed within a compact, pedalboard friendly enclosure.
Constructed with the goal of delivering unrivaled sound quality, in an easy to use package, the Dual Boost pairs the highest quality components with an on-board charge pump circuit that delivers a pure audio path, superior dynamics, and wide dynamic range, all from a single 9-volt battery or 9-volt regulated power supply.
The Dual Boost features two independent modes, (each with their own Boost and Hi-Cut controls), a global Boost Range switch (+10dB/+20dB), and our proprietary mfx (Multi-Function Technology) switching. No matter what your needs may be, the Dual Boost offers a comprehensive solution to preserving and boosting your signal without changing or coloring your original tone.
MF(X) TECHNOLOGY
Switch between Boost 1 and Boost 2 in mid performance by pressing and holding the footswitch.
MF(X) TECHNOLOGY
Switch between Boost 1 and Boost 2 in mid performance by pressing and holding the footswitch.
DUAL CHANNEL BOOST/BUFFER/LINE DRIVER
Two channels of pristine, clean boost. Each channel has an independent Boost and Hi-Cut control. The channels are switchable via our m(fx) technology. By simply pressing and holding the footswitch for approximately one second you can switch from Boost 1 (green) to Boost 2 (red).
The selectable global boost range switch sets the rage of the boost to either +10dB or +20dB.
ULTIMATE QUALITY
The Suhr Dual Boost is built with ultra low distortion and low noise components that have been selected for superior signal transparency. The internal charge pump circuit makes for a boost pedal with increased headroom and dynamic range.
ADVANCED FEATURES
Selectable Bypass Mode: Via an internal switch, you can choose to have the Dual Boost operate in true bypass, or buffered bypass modes.
FX Link: The FX Link connector allows the pedal's switching function to be controlled from an external switch, pedal board, loop switcher, or any other custom interface. FX Link also provides the ability to power up in the On/Off state.
Low Battery Monitor: Dual Boost incorporates a unique battery monitor that alerts the user to low battery conditions. In addition, the battery monitor will automatically switch the pedal to True Bypass if the battery voltage is too low for the circuitry to correctly operate.
| | |
| --- | --- |
| Street Price: | $200 |
| SKU: | 03-BST-0001 |
| Input Impedance: | 1M Ohm |
| Output Impedance: | < 1K Ohm |
| Power Connector: | 9Vdc regulated, center negative, 2.1mm x 5.5mm |
| Operating Voltage: | 4.5V to 9V (normal 9V) |
| Maximum Voltage: | 10Vdc |
| Reverse Battery Protection: | Yes |
| Over Voltage Protection: | Yes |
| Current Consumption: | 21mA (MAX) |
| Estimated Battery Life: | 19 Hours (ON) to 19.775 (OFF) [Alakline] |
| FX Link Connector: | 1/8" Mono |
| FX Link Max Voltage: | 3.3Vdc |
| Shield → Tip: | Activate Boost 1 |
| Shield → Ring: | Activate Boost 2 |
| ROHS Compliant: | Yes |
| Dimensions: | 2.5"(W) x 4.5"(D) x 1.25"(H) |
| Weight: | 0.6lb |